Story and photos by Robert Postma, Churchill Wild Photo Leader
I can see the runway for Seal River Heritage Lodge and Dymond Lake Eco-Lodge approaching from the cockpit of our turbo otter. The greeting party is there, dressed in a myriad of colours to welcome us for a week of fun, excitement and wildlife viewing.
As a photo leader for Churchill Wild, my enthusiasm for their polar bear lodges never wanes. This is an experience that never gets old. The group I am with is made up of many cultures, all with different expectations of what we are about to experience. They will soon know the exhilarating feeling of walking with polar bears; of having a polar bear stare directly into their eyes; of making a rare emotional connection with nature that will last a lifetime.
The art of making imagery with feeling is something I try to teach lodge guests in my lectures, so that those feelings may be conveyed to others who may view their photos after the trip. As it turned out, opportunities for these types of photos were plentiful at both lodges.
I've been to Churchill Wild's remote fly-in lodges on the Hudson Bay coast many times, but never before had I seen the concentration of polar bears around the lodges within a very short walking distance. Having been used to walking a ways to find the bears, it was a pleasant surprise to see so many of them milling about the lodges, sparring, foraging and just living their wildly incredible lives.
Cameras came out, shutters clicked furiously and the lessons of photography were sometimes lost in the excitement of the moment. It is always a humbling experience to watch hulking polar bears duke it out with each other, and even better under a setting sun.
At times I found myself just putting the camera down to witness this spectacle, and the fact that we were on the ground made the experience even more surreal. As the sun set, we walked back to the lodge, leaving the polar bears to continue their fun as the guests looked forward to one of their many gourmet meals, a number of which were created from Churchill Wild's Blueberries & Polar Bears Cookbooks.
That evening, the skies lit up with the aurora. Ghostly curtains of light slowly danced across the night sky, eliciting a collective gasp from our group. I quickly set up everyone's cameras with the correct settings so that they could capture their own memories of the northern lights display, but many chose to just watch, laying down on the ground and looking up into the heavens.
We all went to bed dreaming of polar bears wrestling under the aurora and wondering what tomorrow would bring. Nature didn't disappoint.
We had an unexpected visitor to the lodge the next day in the form of a beautiful young wolf. No one could figure out why he was alone and away from the pack but he was certainly welcome, and he provided us with numerous opportunities to observe and photograph a wild wolf in its natural surroundings.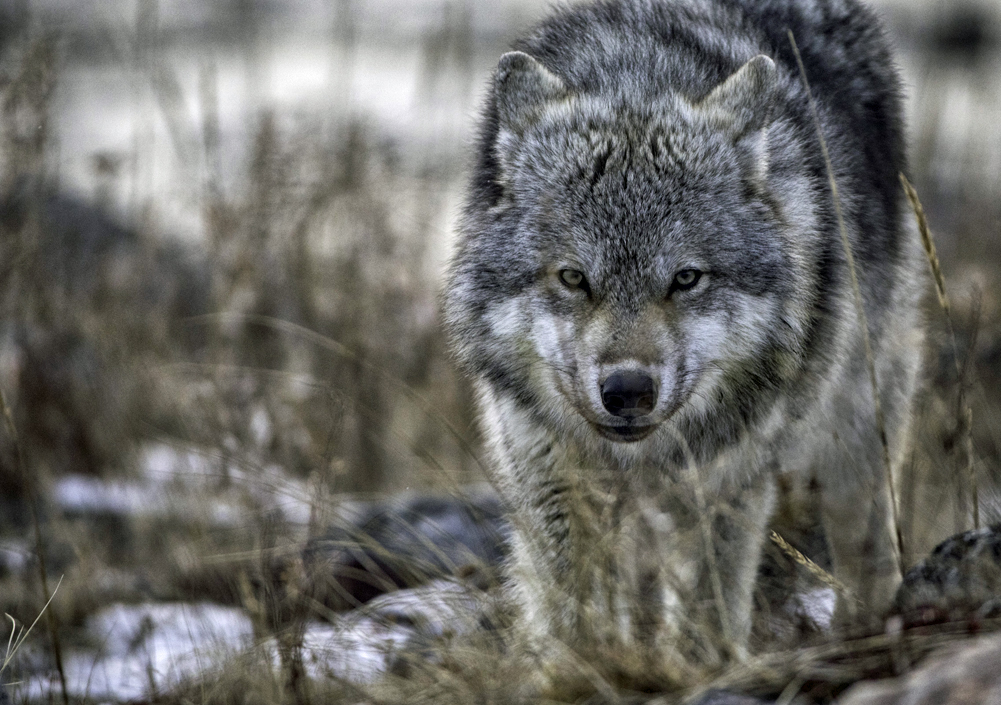 Many of the guests came away with images worthy of a gallery on this trip; images that evoked a sense of wonder and awe; the kind that will start conversations for years to come.
Churchill Wild provides the best opportunity I know of to walk with the animals of the Arctic. To be at eye level with these creatures is to experience life as you never thought you would.
I am honoured to be a photo leader for Churchill Wild. If you're looking for an adventure that you will never forget, look no further. You will not be disappointed.
Okay, time to go charge up the batteries and head back out! Happy shooting!